My Synthesis Series of rods is complex yet uncomplicated. These blanks are made domestically here in the US for me, to my exact specifications. A technologically advanced fusion of parabolic and progressive fly rod tapers, blending my two previous series of rods without watering down the effectiveness and feel. Making use of advanced compound tapers, seamless and functional tip over butt ferrules and traditional e-glass. Not necessarily progressive or parabolic, the best of all synthesized into a new classic.
Smooth and unhurried with quick recovery. Responsive tip, mid and butt sections. You feel the cast and the fish.
66: A 6'6" 2wt 4 piece small water pack rod. I like to call it the Gila Special. Inspired by fishing in the Gila Wilderness catching beautiful and challenging trout. Perfect for a light and delicate presentation. $675

68: A 6'8" 3wt 3 piece I like to call the Blue Ridge Special. Small secluded mountain streams and brook trout. $625

72: A 7'2" 4wt 3 piece I like to call the Driftless Special. Delicate delivery and precise casting control. $625

79: A 7'9" 4/5wt 3 piece I like to call the General Practitioner. A general purpose trout rod. $625 I also make a 5 piece Traveling General Practitioner version on occasion. These are $725.

82: An 8'2" 4/5wt 4 piece rod I like to call the Tailwater Special. Long casts, tiny flies and ultimate control. $625

7-6: A 7' 6wt 3 piece (black glass). This is my infamous Lil Stiffy, previously a limited edition rod (called the 70LS) I designed for small water, big fly big fish rod. The unique rod taper provides an incredible ability to shoot and control line that leaves plenty of room for big and little fish feel and control. $675

777: A 7'7" 7wt 3 piece rod I call the Jackpot. A bass rod I designed to pull big fish out of heavy cover. Suitable for fishing mangroves, salt ready. $675

8-6: An 8' 6wt 3 piece. Hex hatch in Michigan or Smallmouth in Virginia. Big brother to the Lil Stiffy. Yellow. $675

868: The 8'6" 8/9wt 4 piece. A saltwater flats worthy rod. Lighter than you think possible with superior accuracy and distance control. $675
See chart below for further details and pricing and contact me to inquire.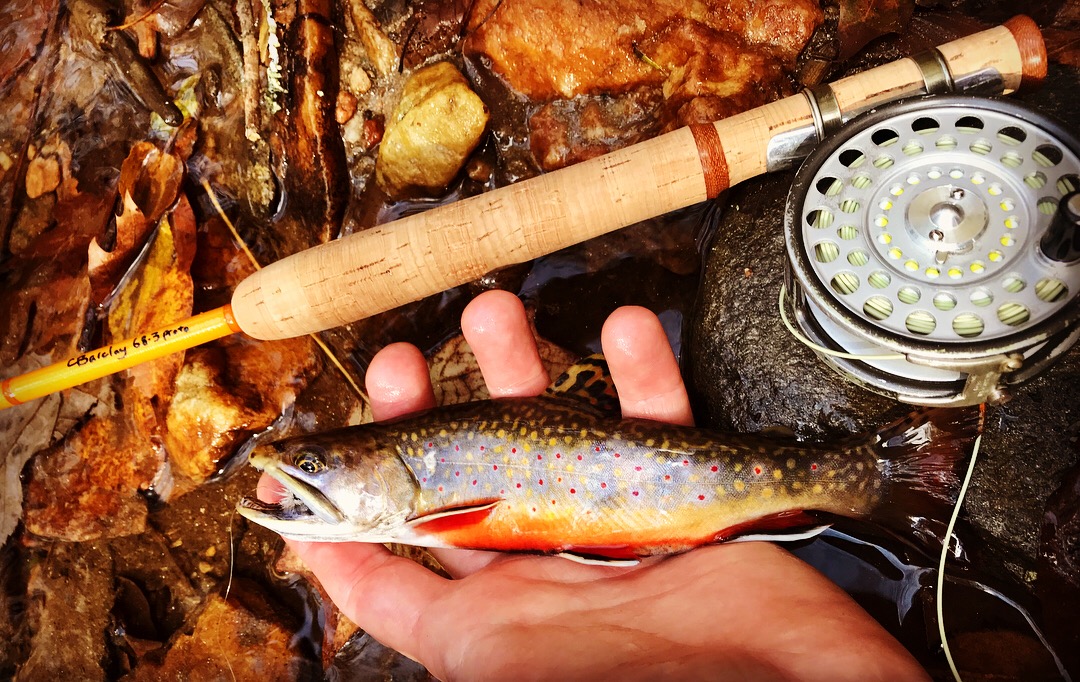 Featuring:
Snake Brand light wire Universal Guides in their new ECOating bright or darkened

Classic and durable carbide stripping guides

Custom designed brass and nickel silver reel seat hardware made by Masatoshi Okui of KINEYA Reels

Flor Grade Portuguese cork grips and seats. Ventilated grips available on most rods for additional cost.

Fine silk wrappings

Butt Magnet - All cap/ring and locking seats with butt cap will have a small rare earth magnet in the cap to help temporarily hold a fly while changing tippet (a customer request that turned standard! - thanks Jess!)

Marine grade spar varnish

Mill finish aluminum tube with domed brass ends

Custom designed rod sock

Optional wood and micarta seat inserts, accents and downlocking seats also available.

Possibilities are limitless (nearly!) so please contact me to talk over options

Examples of custom options for additional cost:

full accent tipping at each wrap $75

Ventilated grip $50

Dual ring reel seat $50

Agate stripping guide $50 (could be less depending on guide)